Radiant Books publishes Book 5 of The Teaching of the Heart series, telling about the true Leaders that stand at the helm of our planet.
September 19, 2017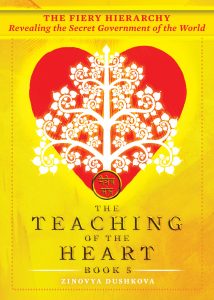 All the peoples of the world have preserved myths and legends about a secret government which rules everything invisibly, making the most important decisions for humanity according to the just Laws of the Cosmos.
This world government is Shambhala the Resplendent, headed by the Great Lord, who was once known all over the world as Prester John, a mysterious king of the East. Although this hidden government has little in common with earthly regimes, it still offered its help to leaders of different countries often. The acceptance of this higher assistance would bring these countries unprecedented flourishing, while its rejection would result in their inevitable decline.
So what does the Hierarchy of Light, this biblical Jacob's Ladder connecting the Earth and Heaven, represent? According to what laws does it rule in the Universe and on our planet? And how can one become a colleague of the Hierarchy?
Radiant Books publishes The Fiery Hierarchy: Revealing the Secret Government of the World (The Teaching of the Heart, Book 5), in which the Lord of Love and Compassion, the Supreme Head of the Hierarchy on our planet, will tell readers about the Teachers who guide life on the Earth and oppose the forces of darkness. He will help them comprehend one of the most fundamental and immutable laws of all creation: the Law of Hierarchy. In addition, in the book's pages they will learn about an innermost link between the Teachers and their disciples and also how they themselves can come closer to the Hierarchy of Light and become its loyal colleagues.
The clear realization of the Hierarchy of Light will enable readers to accelerate their spiritual ascent and attain the Higher Leadership, which will guide and protect them in all the righteous undertakings that they do for the good of all humanity.